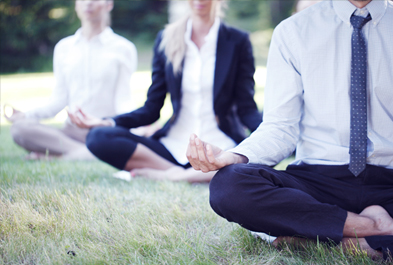 Courses / Inhouse-Workshops
Business Yoga addresses the body parts, that are typically affected by desk jobs. Relaxation and breathing techniques are an emphasized part of this training as well.
Stress and physical tension reinforce eachother. People experience various pain due to their muscles hardening, contracting and cramping under the pressure of everyday work.
I will teach your employees exercises that help them to release and activate their most affected body parts – back, shoulder, arms and wrists.
no transit time – start right away and get back to work fully energized
Inhouse-Workshops
introduction to yoga – brief lecture – practice – question time
3-4 hours are recommended including not less than 90 min of practice
Choose one of the following classes
classical Hatha-Yoga
full Hatha practice including meditation – breathing exercises / pranayama – physical exercises / asanas – final relaxation
YinYoga
meditation – physical exercises / asanas (you'll stay in the positions for 3-5 min each, working on you fascia tissue) – final relaxation
Office Yoga
exercises on your chair and in standing position – no sportswear needed
main focus on neck, shoulders, wrists and back – including relaxation and meditation
classes are designed for up to 10 people and can be repeated for several groups. Experienced students can be guided through an advanced practice.
mats, blocks and straps are available at a charge
Travel expenses in Hamburg will be calculated from A23 Eidelstedt. Other cities upon request.
I'll be pleased to prepare a personal quote for you.
Please call, email or use the contact form.